Electric axles: sustainable and award-winning
SAF-HOLLAND has won the European Transport Award for Sustainability 2022 for its electric trailer axles. The commercial vehicle supplier won over the jury in the category "Components and Aggregates".
SAF-HOLLAND's electric axlesfor regenerative braking and traction assistance protect the environment – in production as well as during the journey itself. Rege-nerative braking in the SAF TRAKr reduces fuel consumption, CO2 emissions and particulate matter emissions from the trailer. The SAF TRAKe axle also supports the drive of the tractor unit in difficult road conditions. SAF-HOLLAND has also eliminated the use of rare earth metals and copper in the production of its electric axles.
"We are very pleased that, with this award, the jury has recognised our contribution to the electrification of heavy goods transport. Our SAF TRAKe and SAF TRAKr electric axles conserve valuable resources during production and specifically reduce CO2 and noise emissions during operation", said Christoph Günter, President Europe, Middle East and Africa and Chief Technology Officer (CTO) at SAF-HOLLAND.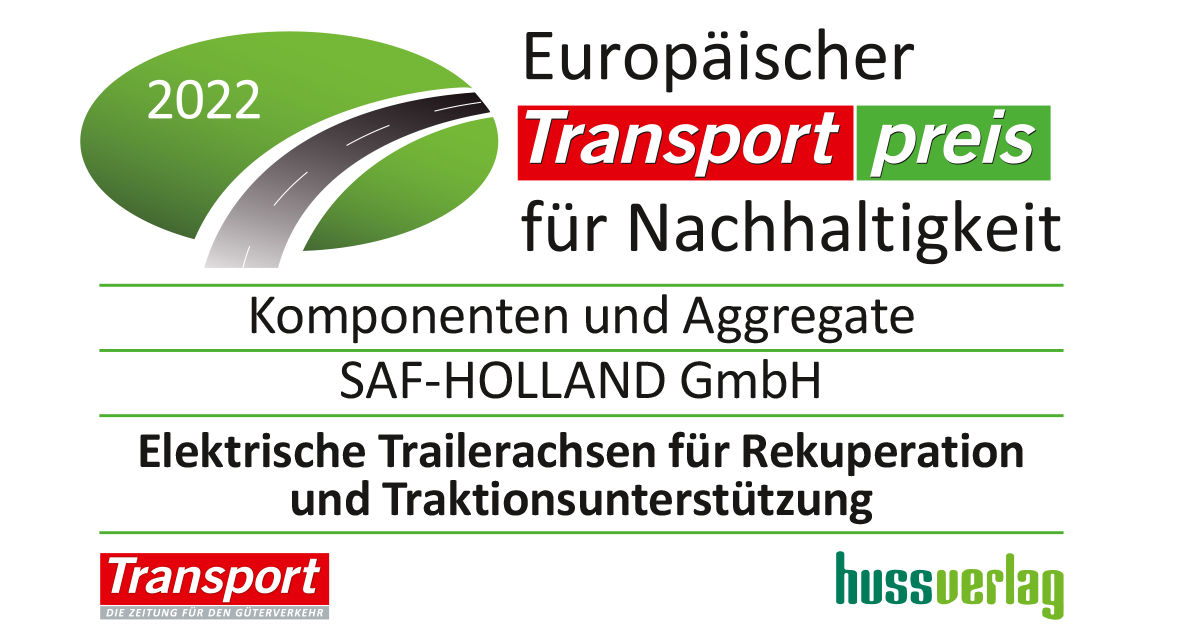 Series production: Starting in 2022
The electric trailer axles can be used, for example, to operate the refrigeration units in refrigerated vehicles permanently using only electric power. Ten pre-series vehicles are already on the road in Europe, and another in Australia. By the end of the year, a total 50 trailers from various manufacturers are to be equipped with the SAF TRAKr regenerative braking axle. Another 50 pre-series vehicles are planned for 2022, before the start of series production is scheduled for the end of the first quarter.
With the European Transport Award for Sustainability, now presented for the sixth time, the German Transport newspaper encourages companies from the commercial vehicle industry to operate sustainably. The award recognises that acting responsibly not only contributes to solving ecological and social issues, but also promotes the competitiveness and profitability of a company.